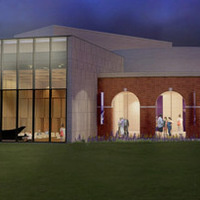 Amberlee Pendleton Recital
The University of Mary Hardin-Baylor Department of Music presents Amberlee Pendleton for her Senior Voice Recital on Monday, February 19, at 7:30 p.m. in Fikes Chamber Hall in the UMHB Sue and Frank Mayborn Performing Arts Center.
Miss Pendleton is the daughter of Brian Pendleton of Liberty, Missouri and Trina Pendleton of Waco, Texas. She is a senior vocal performance major at UMHB and a member of Opera Cru and Opera Workshop. Pendleton has been seen in the roles of Cherubino in The Three Little Pigs, Laurette in Dr. Miracle, Goldie B. Locks in Goldie B. Locks and the Three Singing Bears, Barbarina in The Marriage of Figaro, and Contessa the Cow in The Farmer and the Dell. She is the student of Professor Guy Wilson.
This Recital will consist of music by Mozart, Tosti, Schubert, Mahler, Debussy, Fauré, Copland, Duke, Hoiby, and Beach.
Monday, February 19 at 7:30pm to 8:30pm
Sue & Frank Mayborn Performing Arts Center, Fikes Chamber Hall
810 Main St, Belton, TX 76513
Event Type

Departments
Subscribe