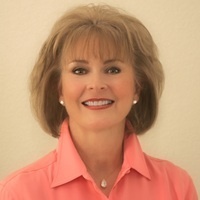 Chapel - Dr. Shirley Cothran Barret
Shirley Cothran Barret has enjoyed a very eclectic life. In 1975, Shirley won the title of Miss America which redirected her predictable life in very unpredictable directions. Over the years, she has had the privilege of speaking in all our states and many countries around the world. Don't call Shirley a "beauty queen," as she used scholarships awarded through the Miss America Organization to fund her undergraduate, Master's degree, and her PhD. in Early Childhood Education & Family Counseling!
As well as being named Texan of the Year, she has appeared on numerous televised talk shows, national news programs such as The Today Show and Good Morning America, Rachael Ray, and just this year, Shirley, her husband and three sons competed on Family Feud! Shirley continues to be engaged in the public forefront. Her educational background has opened opportunities for her to keynote at educational seminars, public school forums, and at university roundtables. Remaining active with the Miss America Organization, she was recently invited for the fourth time to serve as head judge during pageant week. Shirley has served in several volunteer capacities, including her local school board, Texas Speedway Children's Charity, other various community efforts, and part of National Speakers' Association.
Shirley's different ministries remain especially important to her. Speaking to various Christian groups have always been a highlight. "To potentially enrich, challenge, or inspire another person is an honor of a lifetime," Shirley was recently quoted. Never before has there been such opportunity and balance needed to live life that reflects eternal value. It is Shirley's prayer that her life and ministry would be a compliment to the Kingdom of Christ.
Always appreciating the art of story telling, Shirley is in the process of writing a sequel to an inspirational novel, while she has also contributed articles in diverse Christian publications. Her love for all things creative, Shirley stays busy with painting, mosaics, reading, and needlework.
Shirley and Richard have four grown children, four grandsons. They continue to reside in their country home near the Fort Worth area.
Wednesday, October 3, 2018 at 10:00am to 12:00pm
Walton Chapel, Chapel
1002 Moore Avenue, Belton, TX 76513
Event Type

Departments
Subscribe