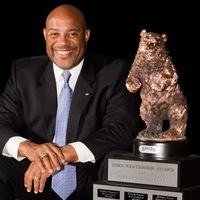 Chapel - Walter Abercrombie
Walter Abercrombie is currently Associate Athletic Director at Baylor University and Executive Director of the Baylor "B" Association. An All-American and three-time all-conference football player between 1978 and 1981, Walter is ranked #2 all-time among Baylor's rushing leaders with 3,665 yards. He was also selected as the Southwest Conference's Offensive Player of the Year in 1980.
Abercrombie went on to an eight-year career in the National Football League, playing with the Pittsburgh Steelers and the Philadelphia Eagles. A Waco native, he earned a Bachelor of Science degree in Education and a Master of Science degree in Athletic Administration from Baylor University's School of Education. Prior to his current position at Baylor, Abercrombie served as the Director of Education and Special Projects with at the American Football Coaches Association, where he worked alongside legendary coach and Executive Director Grant Teaff.
Wednesday, September 5, 2018 at 10:00am to 12:00pm
Walton Chapel, Chapel
1002 Moore Avenue, Belton, TX 76513
Event Type

Departments
Subscribe