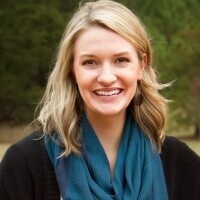 Chapel - Megan Almon
Megan, a former University of Georgia gymnast, worked as an award-winning journalist until 2008, joined Life Training Institute in 2009, and was awarded a Master of Arts degree in Christian apologetics from Biola University in 2011. A speaker with LTI, Megan travels around the nation training students to understand, articulate and defend the pro-life view and its place the larger Christian worldview. She and her husband, Tripp, have been married since 2003 and have two children, Neely and Rogan. Though Megan was born and raised in Georgia, her family is preparing for grand adventures in the great state of Colorado after Tripp was named Director of Summit Semester, a program of Summit Ministries.
Megan's favorite part of her job at Life Training Institute — aside from sharing life-saving training material and getting to help students nationwide understand who they are and why they matter — is being a student of her craft. She enjoys following her curiosity on topics that relate to pro-life apologetics, and is currently most interested in questions related to: aesthetics; the power of great stories and how they relate to human dignity and the Gospel; the vital importance of true community and its impact on human flourishing: and human limitations and creativity.
Wednesday, January 17, 2018 at 10:00am to 11:00am
Walton Chapel, Chapel
1002 Moore Avenue, Belton, TX 76513
Event Type

Departments
Subscribe