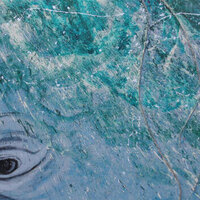 Hershall Seals: A Moby Dick Experience Artist Talk & Opening
The UMHB College of Visual and Performing Arts and the UMHB Art Department are proud to present the exhibition A Moby Dick Experience: Hershall Seals August 21 – September 22, 2017 in the Baugh Center for Visual Arts Gallery. A public reception and artist's talk is set for 5:00 pm on Monday, August 21. (FAE Credit available).
The presentation consists of a multimedia display of sound, light, and painting on the subject of the last three chapters of Herman Melville's Moby Dick. Seals created three large mixed media acrylic paintings that visually portray the feeling of impending disaster and demise of the crew of whalers who hunted the white whale completely around the world.
Other features accompany the exhibit include a voice narration, projected water patterns, and whale songs intended to immerse viewers in a full sensory experience of the events of the last three chapters of the novel.
The literary inspiration of Moby Dick has been a challenge for many artists since the Romantic period. Seals expresses his 20-year fascination of the story as a metaphor for seeking, as Melville writes, "the ungraspable phantom of life." Seals says, "leaving the port of safety and hunting an elusive goal under the surface is another way of saying how mysterious and surprising the search for a personal abstract visual language has been for me."
Baugh Center for the Visual Arts Gallery hours are 9 A.M. to 4 P.M., Monday through Friday. For more information visit http://undergrad.umhb.edu/art/ or contact Hershall Seals at hseals@umhb.edu.
Monday, August 21, 2017 at 5:00pm to 6:00pm
Presser Hall, Hughes Recital Hall
904 King Street, Belton, TX 76513
Event Type

Departments
Group

Subscribe