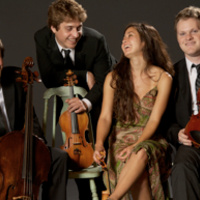 Hillman Artists Series: String Quartet plus Piano
FAE Credit Available.
The Hillman Visiting Artists Series opens its season on Thursday, September 21 by exposing the horoscope signs of quintessential chamber music composers, combining stories of their personalities with chamber works that exude their most expressive traits. "Virgo Veritas," the first concert of the season, takes place at 7:30 pm on Thursday, September 21 at Hughes Recital Hall on the University of Mary Hardin-Baylor campus. The composers included on this program - Antonin Dvorak, George Gershwin, and Amy Beach - were all born in September, within or on the cusp of the sign of Virgo. Schumann highlights these Virgo traits with the "American" Quartet (Dvorak), Lullaby (Gershwin), and Beach's Piano Quintet. Performing artists are the New York-based, award-winning Aeolus String Quartet; and UMHB Professor of Piano, Michelle Schumann.

About the Artists
Aeolus Quartet
The Aeolus Quartet is committed to presenting time-seasoned masterworks and new cutting-edge works to widely diverse audiences with equal freshness, dedication, and fervor. Violinists Nicholas Tavani and Rachel Shapiro, violist Gregory Luce, and cellist Alan Richardson formed the Quartet in 2008 at the Cleveland Institute of Music. Since inception, the Quartet has been awarded prizes at nearly every major competition in the United States and performed across the globe.
The Aeolus Quartet has been widely recognized for their innovative and engaging outreach programs, most notably as recipients of a CMA Residency Partnership Grant and the Fischoff National Chamber Music Association Educator Award. The Quartet has served as teaching faculty at Stanford University's Education Program for Gifted Youth (EPGY), the Austin Chamber Music Workshop, and Da Camera of Houston's Music Encounters Program. Aeolus was the 2013-2015 Graduate Resident String Quartet at the Juilliard School, and is the ensemble in residence at Musica Viva of NY.
Michelle Schumann, piano
Hailed for her "sensitive, flexible, and tempestuous dexterity" (Fanfare Magazine), pianist Michelle Schumann has built a reputation for evocative and moving performances. In addition to being a Professor of Piano at UMHB since 2002, Michelle has served as Artistic Director of the Austin Chamber Music Center, where she "is fearlessly expanding our definition of chamber music." (Austin-American Statesman). Her brand of performance includes an enthusiastic interplay with the audience and her trademark includes bringing diverse music together under a blanket of narrative events. She received a Doctor of Musical Arts degree from the University of Texas at Austin and additionally holds a Performance Diploma from the Vienna Conservatory.
This concert is made possible through the generous support of the Helen Frances Hillman Fund for Scholarly Exchange. The Hillman Visiting Artist Recital Series is underwritten by The Helen Frances Hillman Fund for Scholarly Exchange. The fund was established in 1999 by Dr. Jimmye S. Hillman in honor of his wife, Helen Frances Smith Hillman, Mary Hardin-Baylor Class of 1946. The fund was designed to foster scholarly exchange at UMHB, particularly in the area of fine arts, music and languages. All performances in the Hillman Visiting Artist Series are free and open to the public. For more information please call the College of Visual and Performing Arts at 254- 295-4678.
Thursday, September 21, 2017 at 7:30pm to 9:00pm
Presser Hall, Hughes Recital Hall
904 King Street, Belton, TX 76513
Event Type

Departments
Group

Subscribe