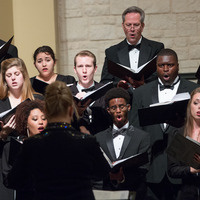 Messiah Concert
Tickets for this event are sold out.
UMHB's Concert Choir will present Handel's Messiah on Friday, November 17 at 7:30 pm in the beautiful new Sue & Frank Mayborn Performing Arts Center.
The choir will be performing the Christmas portion of this beloved work with full orchestra. UMHB music alumni Stephen Ash, Amanda Cantu, Caroline Brown Green, and Samuel Davis will be featured as the soloists. "Messiah has remained one of the most popular choral works for 275 years," explained Dr. Michelle Roueché, Director of Choral Studies. "We are thrilled to present it to the UMHB community during this inaugural season of our gorgeous new Performing Arts Center," she said.
Friday, November 17, 2017 at 7:30pm to 9:00pm
Sue & Frank Mayborn Performing Arts Center, Baugh Performance Hall
810 Main St, Belton, TX 76513
Event Type

Departments
Group

Subscribe