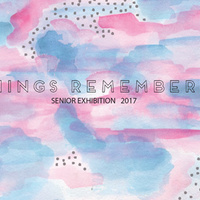 Senior Exhibitions
"Things Remembered" Senior Art Exhibit to be Presented at UMHB
The UMHB College of Visual and Performing Arts presents the work of three graduating art majors in an exhibit titled "Things Remembered". The works of art displayed represent a variety of mix-media paintings and graphic design. The show in the Baugh Center for the Visual Arts at the University of Mary Hardin-Baylor is slated for November 13 – 22, 2017. A public reception is planned for Tuesday, November 14 from 5:00 to 6:30 p.m.
The three candidates for the Bachelor of Fine Arts Degree, Francesca Infurnari from Buffalo New York, Rebekah Brooks, from Moody TX, and Kameryn Bogges from Keller, TX.
Francesca Infurnari paints and draws autobiographical work exploring memories and emotion using interior spaces and everyday objects. Overlapped images described with line and watercolor in an atmospheric space convey the relationship between memories and time.
Kameryn Boggess creates stationery note cards with printed designs of simple everyday objects. Utilizing both watercolor and digital art skills, her message of 'go and do' emphasizes the importance of handwritten letters.
Rebekah Brooks creates paintings and drawings with the human figure in surrealistic situations.
Seniors receiving an art degree at UMHB are required to present a polished cohesive gallery exhibit with their best work and defend their art thesis before a faculty committee. This rigorous capstone experience prepares students for professional career aspirations as artists in the workforce, or for the further graduate studies in the visual arts.
Baugh Center for the Visual Arts Gallery hours are 9 a.m. to 4 p.m., Monday through Friday. For more information visit http://undergrad.umhb.edu/art/ or contact Hershall Seals at hseals@umhb.edu.
Monday, November 13, 2017 at 9:00am to 4:00pm
Baugh Center for the Visual Arts, 206 (Art Gallery)
812 Shine Street, Belton, TX 76513
Event Type

Departments
Subscribe