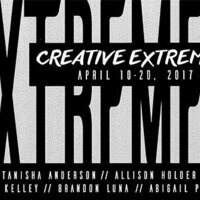 UMHB Senior Exhibitions
The UMHB College of Visual and Performing Arts presents the work of five graduating art majors in an exhibit titled "Creative Extremes". The works of art displayed will be presented in various media including painting, graphic design, and ceramics. The showing in the Baugh Center for the Visual Arts at the University of Mary Hardin-Baylor is slated from April 10 – 20. A public reception will be Monday, April 17 from 6:00 – 7:00 p.m.
The five candidates for the Bachelor of Fine Arts Degree, Abigail Panak from Rockwall, TX, Allison Holder from Thrall, TX, Leah Kelley from Dallas, TX, Brandon Luna from Troy, TX, Tanisha Anderson from Harker Heights, TX.
"Leah Kelley presents a series of digitally produced landscape paintings. Her work demonstrates a way that graphic design can still maintain a hand-made foundation. Her digital landscapes are a whimsical and modern approach to vintage paint-by-number paintings."
Abigail Panak will be presenting an assortment of book cover jackets. The book cover exhibition showcases composite designs created with photography as well as incorporating type and color. Each book jacket design's goal is to capture the mood of the book's story, genre and synopsis.
Tanisha Anderson presents a series of oil paintings and mixed media pieces that "depict the celebration of this limitless yet fragile thing we call life."
Brandon Luna will exhibit a series of sculptural ceramic vessels. These works will present an untraditional take on form and design by using an angular aesthetic.
Allison Holder will exhibit a series of digital portraits. The exhibition will depict several portraits of different sizes in a more abstract form, using digital tools to manipulate the pieces in an unusual form.
Seniors receiving an art degree at UMHB are required to present a polished cohesive gallery exhibit with their best work and defend their art thesis before a faculty committee. This rigorous capstone experience prepares students for professional career aspirations as artists in the workforce, or for the further graduate studies in the visual arts.
Baugh Center for the Visual Arts Gallery hours are 9 a.m. to 4 p.m., Monday through Friday. For more information visit http://undergrad.umhb.edu/art/ or contact Hershall Seals at hseals@umhb.edu.
Saturday, May 6, 2017 at 9:00am to 4:00pm
Baugh Center for the Visual Arts, 206 (Art Gallery)
812 Shine Street, Belton, TX 76513
Event Type

Departments
Subscribe