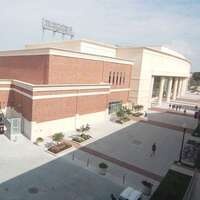 King Street South (Bawcom Student Union side)
King Street is the pedestrian area in front of the Bawcom Student Union. It is used for a number of events throughout the year.

Come get your brisket and sausage tacos on King Street and help fill The Source pantry.


An SGA event promoting recycling.
Recent Events
The Stunt Night Theme Reveal was awesome, can't wait for Game Night!! Go Cru!

Karen Davis left a positive review
5/5/2015
It was awesome the truck was authentic and she was great