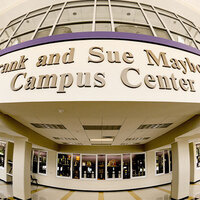 Mayborn Campus Center
The Frank and Sue Mayborn Campus Center construction began in April 2003, and was dedicated on February 4, 2005. The new center includes the former J.E. and L.E. Mabee Health and Physical Education complex, which was built in 1957 and underwent renovations in 1980 and 1995. It includes classrooms and laboratories for the academic programs, an exercise/fitness room, an aerobics room, student and faculty dressing rooms, offices for faculty and coaches, and a student lounge.
923 University Drive, Belton, TX 76513
Place Type

Student Life

Phone

(254) 295-8642

Website
Twitter
Recent Events
David Howle left a positive review
4/17/2018
Is he running for President in 2020? I hope so.
It was awesome! I had a lot of fun.
Awesome!!! Well executed. The various countries represented by the flags was really nice.
Karen Davis left a positive review
8/23/2016
It was great I liked the talk that Dr. Kemp gave it was very uplifting

John Carter left a positive review
8/23/2016
Loved it! Thought that Dr. Kemp did an amazing job!
Felicia Hannah left a positive review
12/9/2015
It was a great experience to see what the future holds!! Congrats to the CON class of 2015!! fah #class2017
Michelle Roueche left a positive review
2/10/2015
An honor to see what a humble, Christ-like servant this president is! And funny too!
Tiano Appleton left a positive review
2/26/2015
Had lots of fun it was a great idea if more teams participated it would have been even better
It was great. Very inspiring.
Laura Pyle left a positive review
2/10/2015
He is an exceptional speaker. I didn't realize how much of a character he is with the humor he has. He was much more loose and open with his speaking compared to what I saw during his presidential years. He felt genuine as well.