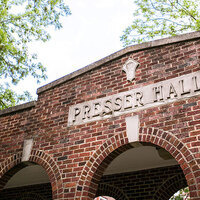 Presser Hall
Presser Hall was built in 1930 as a result of the Luther fire. In 1978, it was completely renovated. The building was made possible by a gift from the Presser Foundation and it houses the College of Visual and Performing Arts - including music and performance studies. Classrooms, faculty offices, as well as piano and organ practice rooms are in this building. The north end of the building contains Hughes Recital Hall, a 300-seat acoustically perfect recital hall that was renovated in 1976.
904 King Street, Belton, TX 76513
Place Type

Phone

(254) 295-8642

Website

A ministry geared towards spreading the message of the Gospel through the performance of skits, and other visual and artistic elements. This is open to all...

Recent Events