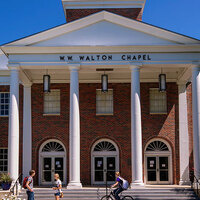 Walton Chapel
The chapel was built in 1967 following a fire which destroyed the Wilson Administration Building and Alma Reeves Chapel in 1964. Twice weekly chapel services are held in Walton, as well as fall and spring concerts, the Crusader Knights Contest, and Miss MHB Pageants.
1002 Moore Avenue, Belton, TX 76513
Place Type

Student Life

Phone

(254) 295-8642

Website


The Graduate Hooding Ceremony will honor all master's and doctoral graduates through the formal hooding. All family and friends are invited to celebrate the...



Recent Events